Haos Special Works are high vehicle upgrades along with new class of modified vehicle races. New weekly rotations of Time Trials with Premium Test Rides. As soon players will login in GTA 5 Online on PS5 or Xbox X|S platform, they will receive a call from HAO.

"HAO has left a car for you to collect. Go to his garage in Vinewood to take the car for test drive." Players will see a car logo on map in the Downtown Vinewood area. Move to that place and collect HAO'S Car. There will be a trial time with HAOS Time 08:10:00, however it is very easy to complete with two minutes in hand. Players transferring from PS4 or Xbox One will also be able to claim a fully upgraded Karin S95 for free as a bonus at this point.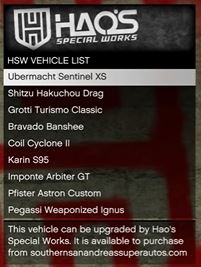 GTA 5 HSW Vehicle List
There are total 9 vehicles in total that can be modified in HAO'S Special Works Mod Shop.
Ubermacht Sentinel XS
Shitzu Hakuchou Drag
Grotti Turismo Classic
Bravado Banshee
Coil Cyclone II
Karin S95
Imponte Arbiter GT
Pfister Astron Custom
Pegassi Weaponized Ignus
HAOS Special Works Location
HAOS special work and upgrades are located at the Los Santos Car Meet (LSCM). New players coming to this place need to buy Mimi membership first in order to access Hao's special upgrades. One of the great new feature in the vehicle modification is the new paint group "Chameleon".
How To Buy Mimi Membership in Los Santos
Why we need to have MIMI membership ? Here is the answer, to avail any services inside the LS CAR MEETS and participate in race events you need to have the MIMI membership for $50,000. You need this membership to participate in prize ride challenge which is updated by Rockstar every week. Buying this membership will let you mod your vehicle inside LS Car Meets, access to tattoos shop, new HAO's Special Work (for new generation console players only) and clothing area.